Womanhood Is Humanhood And More
The struggle for Women's Liberation MUST, by its inherent nature,
be only fifty percent Women's Labor and the other half (50%), Men's Labor. For, in EVERY Woman and Man there IS a Man and Woman,
BOTH of whom we MUST Recognize, Reconcile and Unify in Love.
Individuals and Societies CANNOT be FREE and HARMONIOUS until both the Woman and Man within each ONE is SECURELY ACKNOWLEDGED and LIBERATED. Women's SUPPRESSION IS Men's OPPRESSION!
Genuine WOMANHOOD POWER, HONOR and DUTY is A Cosmic TRUST!
What are Men but Women in Handsome Hoods
Embellished for Soul's Earthly Embodiment,
And who are Women but Men in Beautiful Hoods,
Adorned for the Soul's Cosmic Evolvement;
The Hood is but the Beings Fleshly Habiliment;
A garment of Life Enroute of Mortal Destiny.
WOMANHOOD IS HUMANHOOD and LIFE!
Although the Souls be Hooded Man and Woman,
The Conscious Being is the Same Within Everyone,
Equally True of the Man and for the Woman,
The Ovum and the Sperm is Fused to Create ALL,
In The Creatress-Creator's Gift of Character and Splendor, He or She,
Is Neither More Possessed and Beloved of Destiny:
WOMANHOOD IS HUMANHOOD and SOUL!
To KNOW the Soul, their Hoods all MUST Prevail,
And, a Happy Surprise were all People to Realize,
If a Woman or Man: Asian, Mayan, African and Aryan,
The persons of each Hood Elicits in Every Person,
Working and Unfolding a Wondrous Special Aspect,
In the Annals of Common Destiny.
WOMANHOOD IS HUMANHOOD and WISDOM
Consider Thy Self-Same Identity and Difference,
Consider, also, the Neuter Nature of the Soul,
Sure, Man and Woman shines in ALL Women and Men
Over the Carnal Hoods, which the Soul Designs,
For the Responsibility of Liberating Experience,
Which Buoys and Sails the Wings of Destiny
WOMANHOOD IS HUMANHOOD and GRANDEUR
Yes, in One and the Same Soulful Individuality
Supremely Resides a Corporate Man and Woman,
Polarized to a Male and a Female Ministration,
Yet Indivisibly Embraced as Single Inviolate Entity
The Sex is but a Transient Temporal Formation
That's Essential to a Transient Physical Destiny.
WOMANHOOD IS HUMANHOOD and POWER!
Humanity Errs to Thwart this Balance in Divinity,
Through the Malefic Ascendancy of Manly Egotism,
Or in Loitering by the Bungle of Antique Traditions
While Demeaning Obstacles Afflict Goddess Humanity,
Thereby Appointing the Fall of the Very God Himself
Contrary to Their Rising and Mutual Destiny.
WOMANHOOD IS HUMANHOOD and GODDESS!
Convene the Nations by Freedom, Justice and Equality,
For to Liberate Humankind through Divine Womanhood,
May Efforts in Progress Usher in Love and Wisdom,
And Mortals Inspired Beyond Belly, Racism and Sexism,
Renouncing Every Oppression to Let Women Liberation
Follow the Path of True Destiny.
WOMANHOOD IS HUMANHOOD and FUTURE!
~ Osuagwu Josiah Nwanayobi ~
(Home)
This Website is Dedicated to
"THE MOTHER" AND "THE WAY" OF "THE MOTHER."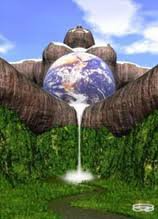 COSMIC COMMUNITY FOR CONSCIOUS COSMIC CITIZENSHIP